Laundry Room Cleaning Checklist
Do you consider how clean your washer is (or isn't) whenever you throw dirty clothes into it? If you can't remember the last time you cleaned your appliances, it's probably time to give your laundry room a deep clean. It's a little ironic that, as the hub of household cleaning, the laundry room ends up being the last place you think to clean.
This step-by-step laundry room cleaning checklist will assist you in completing all you need to do to make the area spick and span.
Essentials Required to Thoroughly Clean Your Laundry Room
Your first step should be to gather all the cleaning products and supplies you'll need to get the job done. To avoid spending time looking for the items you need to finish a task, get them ready before you start.
Here is a list of useful products to get your cleaning marathon started:
White vinegar
Warm water
Garbage bag
Damp cloth
Microfiber cloth
Dishwashing liquid or an all-purpose cleaner
Mop
Vacuum
Window cleaner
Paper towels
Baking soda
Laundry Room Deep Cleaning Checklist
The Countertops and Cabinets
Use an all-purpose cleaner to wipe down the cabinets, counters, and appliances in the laundry room, the same way you would in the kitchen. This advice is crucial for preventing the growth of bacteria and removing any scratches or blemishes before they have the time to become irreversible.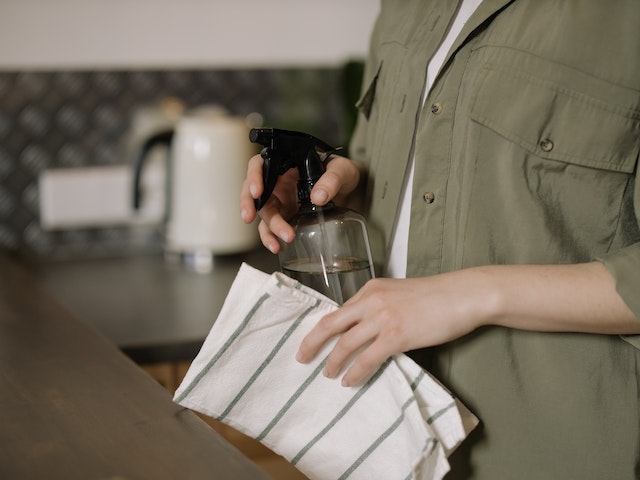 Based on usage, aim to clean the laundry room at least once every two weeks. If your laundry room is also your bathroom, you may need to clean it more often.
The Dryer
It's important to clean out the lint trap in your dryer to avoid potential hazards. Using a damp towel or a used fabric-softener pad, remove any fluff. Alternatively, you might wet your hands and use your fingertips to comb the mesh screen for lint. If you use fabric softener, wash out the panel in the sink to get rid of any waxy residue.
Soak a cloth in warm water and dishwashing liquid. Use it to wipe out the interior walls of the dryer. If needed, scrub any lint-filled buildup near the trap entrance with an old toothbrush.
The Dryer Hose
Utilize an extending duster or vacuum to thoroughly clean the dryer hose's interior. Choose either approach to get rid of the dust and dirt that builds up on the hose's sidewalls.
The Washer
White vinegar is a great way to clean your washer's interior and remove soap scum. The inner and outer walls of the washer should be cleaned similarly to how you cleaned the dryer. Dip a cloth in dishwashing liquid and warm water and dampen it before using it on the surfaces.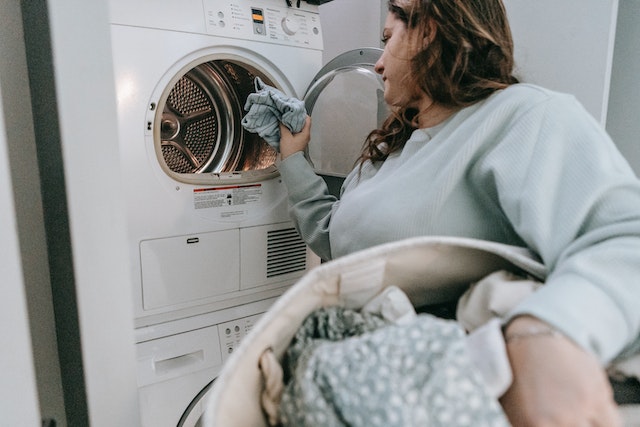 The Backs of the Washer and Dryer
Vacuum the flooring below the washer, dryer, and backs on a low level while using a brush attachment. Slide the machines with equipment casters, wheels or rollers to access behind the devices. Do not overextend the dryer hose. Unplug the hose if it appears to be too short.
Other Appliances
Small laundry room machines like irons, steamers, and other devices still require a little consideration. Clean mineral buildup and spray-starch accumulation at least once every month. Prepare a paste out of baking soda and water and clean the iron with a towel dipped in the mixture. Use cotton swabs to clean around the soleplate's holes.
The iron should then be turned to high, the reservoir filled with distilled water, and the vents naturally cleaned by steam.
To get rid of any gunk from a steamer, use vinegar and turn the steamer to a high-heat setting. After discarding the vinegar, preheat the steamer with purified water. To get rid of any germs, clean any other gadgets using all-purpose wipes or cleaners.
The Sink
There are sinks in certain laundry facilities where garments are frequently cleaned or disinfected. These sinks might accumulate soap scum and other crud. You can clean the dirt build-up with a cloth and vinegar or a similar cleaning agent by spraying them down. At the end, use a microfiber cloth to polish the grips and faucets.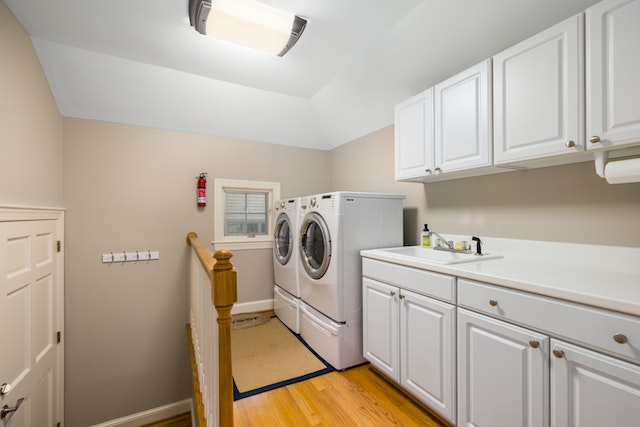 The Vents
Vacuum any floor or ceiling vents by using a brush attachment on the highest setting. Especially in this space, dust and lint can plug the vents and reduce ventilation. With a wet towel, clean the vent grates.
The Windows
Spray glass cleaner onto a cloth. You might also use a water and dishwashing liquid solution. Spread the damp towel to clean the windowsill and the frame. If you've got curtains, use a brush attachment to vacuum them.
The Laundry Baskets
Cleaning laundry baskets and hampers could seem counterproductive. Why bother cleaning them if they hold dirty things? These objects can eventually develop a smell, but routine maintenance keeps them fresh.
With a moist cloth and all-purpose cleaner, clean plastic hampers and laundry baskets. Make sure they're dry before using them again. Depending on the instruction tag on the item, clean fabric hampers in the washing machine.
To clean the inside of a wooden hamper, empty it, vacuum it, and then sprinkle it with a little baking soda. Take it outside if you can so it can air out for a couple of hours.
Discourage Dust Bunnies
To avoid sneezing and allergies, consider dusting. Dust the ceilings and crown molding using a vacuum hose attachment before moving on to the rest of the room with a feather duster. Pay extra attention to open shelf units, nooks, and crevices. If your laundry room has a ceiling fan, dust each of its slats with an old sock.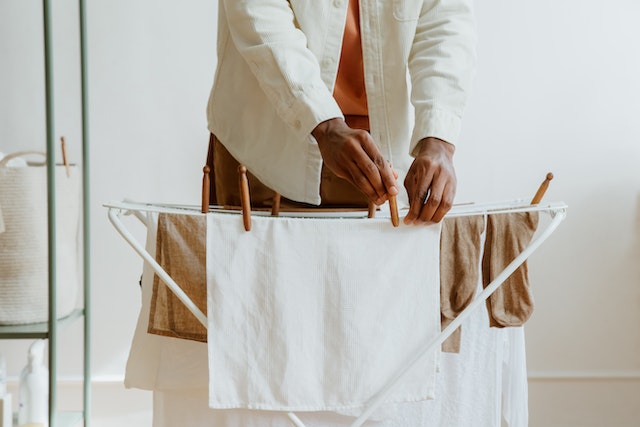 Restock Supplies
There aren't many things more stressful than hurrying to finish an urgent laundry pile to just realize you're out of detergent. Consider making it a routine to assess your inventory availability whenever you clean your laundry room.
Make a list of the detergent, fabric softener, bleach, dryer sheets, and other supplies you're running low on and include them in your shopping list.
Hire a Professional
Using a handful of tools and common items, you can sanitize your laundry room within a couple of hours. However, hiring a reputable cleaning service is worth it if you're short on time and your laundry room requires a complete deep clean.
If you're seeking reliable professionals in Ottawa to take up the cleaning hassle from your schedule, you could consider Easy Clean. You can hire us to clean the entire house or just the laundry room. We serve Orleans, Kanata, Stittsville, Greely, South Keys, Richmond, and many other surrounding neighborhoods.
Our team of professionals is committed to serving all of your cleaning needs. We offer a specialized approach to housekeeping. Our dependable cleaners will complete the task for you if you provide them with your timetable and a detailed list of what needs to be cleaned.